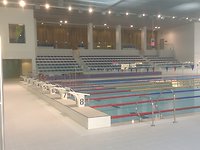 May 2013

Glassmills, the new leisure/sports centre for Lewisham

It's been talked about for years....and it is finally here....almost. Although the grand opening keeps being delayed it does look to be imminent, the staff have suggested the 10th of June.. Previously they have suggested the 1st April, 15th April, 'mid May' and the 1st of June, so we shall see. The great news is that it looks awesome! There are to be TWO pools, a 20 meter leisure pool and a 25 meter competition pool. The later looks amazing, see photo. Please can we have all day lane swimming? There is also a climbing wall, gym, studios, cafe and crèche, and spin bikes. So come on everyone get active, no excuses now....

The river and landscaping around the centre look great too and this seems like a massive asset for Lewisham.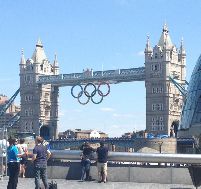 July 2012

It's The Olympics!

Now I know that I have to be careful what I say here, not all of you are happy that the worlds greatest sporting event is arriving in town. I understand that it has cost many billions of pounds, it's going to mess up our journeys to work....and all that corporate sponsorship is unappealing.....but I can't wait!!!....to me it's just SO exciting.
I've finally managed to get a ticket, (though the process was rather frustrating), so I'm going to get into the Olympic Park, and I'm off to see some of the "free to view events", (as a result Lewisham Osteopathic Practice will be closed for the next two Saturdays). London feels like an exciting place to live! GO GB!


March 2012

Lewisham Osteopathic Practice is on the move.

After 12 happy years in the basement of Sheel Pharmacy we are off to a new temporary home while some building work is completed. We are only moving one door down the street, to 314 Lewisham Rd, using rooms above the pharmacy (rather than below it). Although this is not ideal it is the best option for the time being. 314 Lewisham Rd is the green door to the left of the pharmacy. The 'phone number remains the same.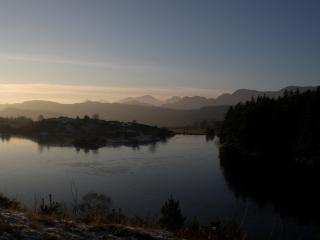 February 2012

Winter Woes…and nasty necks.

Everything hurts more when it is cold! Despite a relatively easy start to the winter the snow and ice arrived with vengeance this weekend. The country reacted in a predictable way, flights were cancelled, football matches postponed, roads closed….and don't even think of traveling by train…..and osteopaths are inundated by patients who have neck pain. One might assume these people have hurt their necks by sliping on the ice, but more often it is because they have been struggling home through the cold with their shoulders hunched against a biting wind, which eventually causes their necks to ache.
A considerable part of my working day is spent encouraging you all to sit at your desks with correct posture, one aspect of which is to keep the shoulders down in a relaxed position, in order to relieve the strain on the neck and shoulder muscles. All this good work is going to waste if you spend hours struggling across the south London tundra with your shoulders hunched up to your ears!! If the shoulders are held up like this for long the strain soon starts to show, with muscle fatigue, irritated joints, or even damaged discs and nerves causing problems.
The moral of the story is 'keep warm'. It's not just about wearing a thick jacket…..a hat and scarf make a huge difference too, so much heat is lost through the head and neck. Shoulder hunching is a reaction excessive cold, and is often accompanied by shivering, and even teeth chattering (which may lead to jaw problems….but that's another story). Stay warm and it will be easier to keep those shoulders in the right place!
And don't forget to wear good grippy shoes or boots too…..because those pavements are going to be icy! Roll in the summer….the days are getting longer….. slowly!

August 2011

SUMMER SHOES? By Richard Lewey

Although you'd never have guessed from the weather, summer is here! At this time of year patients often ask me to deal with foot and lower leg problems. But why do the summer months produce so many problems from the knee down? The answer is often related to the shoes people wear when the sun is out, and most particularly that demon of all foot wear....the flip-flop!

But why should such an apparently innocuous piece of summer apparel cause such misery? In short, from a bio-mechanical point of view, there is not much to say about a flip-flop that is positive. Wearing flip-flops changes your walking gait, inhibiting the muscles that you use to flex your ankle and toes upwards. This can lead to them becoming weak and a subsequent shortening of the muscles at the back of the calf and under the foot, further compromising foot and ankle function, and the muscles that curl your toes down may become over dominant. Most flip-flops also lack any support in the shape of the sole, adding to the problems of any one with a tendency to flat feet or over pronation. All of this can lead to foot, ankle and knee problems. In some people poor footwear can also lead to back pain.

However all is not lost. At Lewisham Osteopathic Practice you can get a thorough biomechanical examination, and advise as to what type of shoe is best for you. We can provide you with orthotics, exercises and hands-on treatment to resolve these problems. There are plenty of summer sandals that are also good shoes. Look for sandals that have straps which attach to your heel and fore foot to the shoe (so that you don't have to grip with your toes), and have a well-shaped sole to support the shape of the foot.

Enjoy the sun!