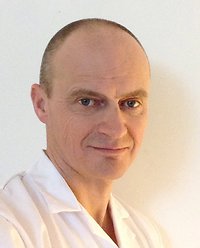 Richard Lewey is the owner and principle osteopath at Lewisham Osteopathic Practice. Richard graduated from the British School Of Osteopathy in 2001 with a 2:1 degree in Osteopathy and has worked at a number of practices in London and Norfolk, before taking over at Lewisham in 2005. He also works in East Dulwich at the Abel Osteopathic Practice (www.dulwichosteopathy.co.uk). Richard has more than ten years experience treating all types of injuries, from strains to degenerative problems. He has undertaken further training in medical dry needling (a western version of acupuncture), and in mat pilates at the APPI (The Australian Physiotherapy & Pilates Institute). Richard firmly believes that a healthy lifstyle, with appropriate levels of activity combined with rest and a balanced diet enables people to optimise their lives. Richard has a sporting background and treats many competitive sports people, especially runners and cyclists. He is a regular competitor himself both on foot and on a bicycle, and if needs must, in a swimming pool.
Elliot Kennard
Elliot studied at the British College of Osteopathic Medicine in London graduating with a Masters in Osteopathic Medicine. He also qualified with a Diploma in Naturopathy.

In addition to his clinical work, Elliot has been a part of a number of sports medical teams including both Fulham and Barnet Ladies Football Clubs and was a part of the Great Britain medical team for The Maccabiah Games in 2013, which is the third largest global sporting event.

Elliot has special interests in occupational health as well as interest in voice production and posture, prevention and treatment of sports injuries and those conditions common in the elderly.

His hobbies include singing, sports coaching and playing soccer.